Texas Track Day Motorcycle School
RideSmart is a motorcycle rider's school and NOT A TRACKDAY organization. We provide instructional assistance for a wide variety of skill levels. From the street rider up to the most experienced licensed racer and everything in between, our focus is to bring the most comprehensive set of tools available. We aim to help increase riding proficiency and safety, whether on the street, or improving lap times at the track. You can find one of our many Texas track day events at the following race tracks: Motor Speedway Resort in Houston (MSRH), Motorsport Ranch at Cresson (MSRC), and Circuit of The Americas (COTA).
RideSmart offers on-track training for persons with at least some experience riding a motorcycle. We DO NOT offer the training required to obtain your Texas Class M Motorcycle endorsement.
---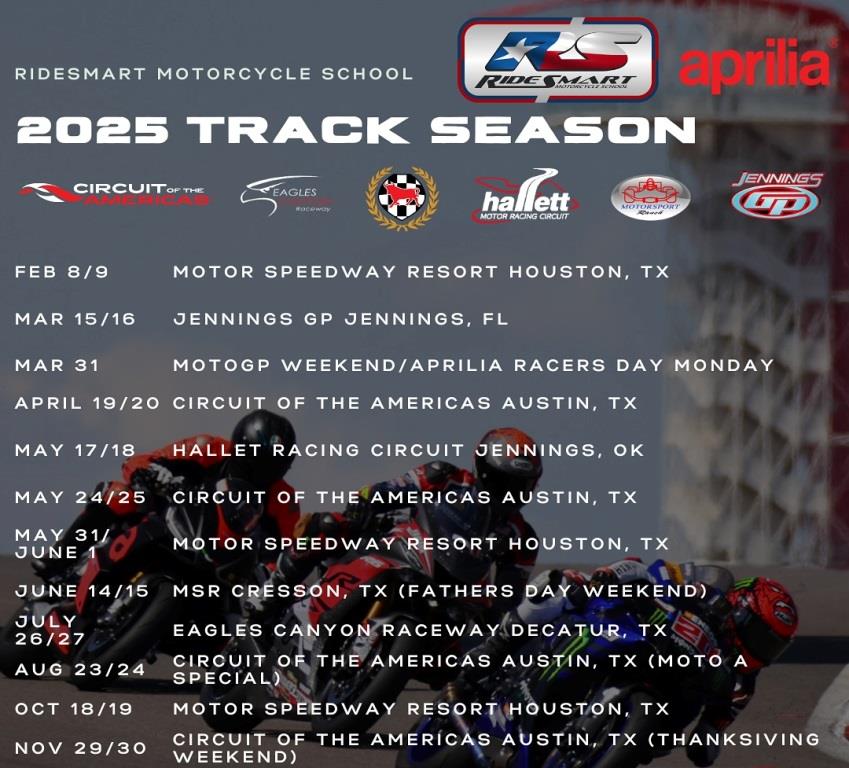 Dave Wonders Retires
It is with mixed feelings that we announce the retirement of our beloved and much appreciated Dave Wonders, Owner of RideSmart Motorcycle School. It is difficult, if not impossible, to sum up Dave's contributions to the riding community. We are indebted to his vision and commitment for propelling us to our present position within the riding community and motorcycle schools within the country. Dave's work has assured our success into the next chapter of RideSmart. Dave Wonders' retirement truly marks the end of an era.
Over the past 20+ years Dave has been dedicated to rider training and education, so to produce safer riders for the road. Dave & Ha Wonders will always be remembered as hardworking, committed, and the friendliest people you could ever meet. They are a true example to look to and to follow.
Please join us this year at RideSmart events to wish Dave & Ha Wonders best wishes on their retirement and celebrate their end of service. And don't forget to ask them what's next on their go-to and to-do list.
We look forward to seeing you at this season's events where you will find all the familiar faces you are used to.  We are so looking forward to the next era of RideSmart Motorcycle School.
---
Click here to Join our Mailing List!
Circuit of The Americas General Event Information
When you purchase a trackday or trackday product, we'll add you to our mailing list. If you do not want to receive informational and promotional emails from us, go here to unsubscribe.