The Three Twisted Sisters
Contained within the Texas Hill Country are some of the best riding roads in Texas dubbed 'The Three Twisted Sisters'. When you visit the sisters you become immediately aware that this is a place that motorcycle riders love. You will witness group after group of riders aboard cruisers, adventure bikes, tour bikes and of course sport bikes.
Imagine riding them with some of your best friends, leaning into every corner with skill and driving out to the next section, with every rider on the line like one beautiful snake traveling smoothly at a fun pace all day long. Our last ride was exactly like this... but that's not how it has always been.
The first time I heard about the sisters was not so much that it was a great place to ride but a place where people die. A member of a group I was part of had recently passed away on a ride in a very technical section of road 337. The first time you get on the actual sisters you are greeted with signs like this.
Time has a way of changing things for motorcycle riders, given enough time we will go to the place that used to scare us and tackle it.
My first ride on the sisters was with my beloved wife. We planned a trip to the sisters and rented a cabin along the Frio River. This is one of the best memories of my life. I was filled with the bliss of marrying the woman of my dreams (who rides motorcycles) and we fell in love with the scenery, roads, and the people. This is truly a great place to visit and unwind far away from cities and traffic.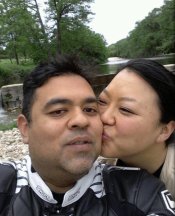 We tackled the sisters with great respect and a healthy fear for our lives on any corner. A friend of mine came over before we left to do a tire change for me, he is one of the best riders in our community and before he left he grabbed my arm, looked me in the eye, and said, 'You be careful out there'. I nodded and he kept hold of my arm and said 'I mean it'.
Around the same time we also discovered Ridesmart Motorcycle School and began to attend events at tracks all around Texas. We quickly became fanatical about the school attending every event we could. The street riding group we ride with called Texas Sport Bike Riders (www.texassportbikeriders.com) was able to get a discount for members. This meant that all our street friends started attending the school as well!
We still wanted to share the experience of the sisters and started inviting friends to go with us. Eventually the group we ride with made this an official trip which resulted in a rather large group making the journey with us each year.
So to the point of this blog... on the very last trip October 2014 I noticed something had changed. We no longer had anxiety or fear riding these roads, in addition every person on the last trip had attended several events at RideSmart Motorcycle school. This resulted in the best riding trip ever with 0 crashes and 0 runoffs. Every rider was observed to ride in control and not over their head.
The dream of riding with your friends with skill and control can come true. Group rides do not need to be filled with run offs, fear, and picking up bikes with trucks. With proper training and patience they can be filled with great memories and beautiful experiences with your best friends and family.
2762